Kredinor's four main priorities
We will continue our efforts to ensure equal treatment of, and equal opportunities for our employees, regardless of age, gender, functional abilities, race, ethnicity, national origin, religion, and financial and other status.
We will ensure the rights of each employee and promote a safe and dependable working environment for all company employees.
We will work to ensure sustainable management and more responsible use of natural resources, including measures to reduce waste by raising awareness of consumption, good waste management, recycling and reuse.
We will ensure that Kredinor will become a leading company with respect to simplification and good customer experiences through the use of modern technology, good routines for learning and training, and conscious choices that support sustainable development.
We know that gender equality contributes to positive growth. Equal opportunities are important in other areas as well. For this reason, we have zero tolerance for bullying, discrimination, and harassment. Maintaining a balanced workforce with respect to gender, ethnic background and religious affiliation makes us stronger in an increasingly globalised world.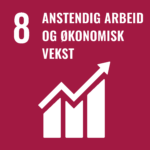 Balance and diversity
Employees at Kredinor are given a distinct framework through a secure and dependable working environment, with the opportunity to combine careers, family life and leisure activities. All employees must treat each other equally, regardless of gender, gender identity, gender expression, age, ethnicity, sexual orientation, religion, life philosophy or disability.
Recruitment on equal terms
Kredinor uses a blind screening tool for recruitment. This means that candidates are assessed anonymously, as the first step of a recruitment process. Candidates are assessed on an equal basis and not discriminated against due to their gender, age, ethnicity, functional abilities, or other factors.
Conscious consumers
Kredinor is continuously assessing consumption and how we can do things differently. As with other companies, it can be difficult to alter consumption and omit all input factors that have a negative short-term impact on the environment. We will always make conscious decisions, to ensure that purchases and other activities are as sustainable as possible.
Our aim, through our learning concept Smartbetaler and our customer advisors, is to help people become more conscious consumers who can balance their personal finances and ensure enough income to cover the costs of their goods when they arrive. If the customer's balance is negative, they must reduce their costs, e.g. through lower consumption, which in turn will put less pressure on production and the environment.
Edda Flatlandsmo
Head of Sustainability at Kredinor
Edda Flatlandsmo is in charge of the sustainability work at Kredinor. She works with everything from smaller day-to-day steps to more extensive measures and larger structural investments, all associated with sustainable development at Kredinor.