"Charlotte has already done an outstanding job of leading the first phase of restructuring Kredinor to become a limited liability company. She has been responsible for the project related to the letter of intent on the merger between Kredinor and Modhi.  She has the appropriate knowledge, discipline and initiative to lead these demanding processes. We are very pleased to have her on our team," says Klaus-Anders Nysteen, CEO of Kredinor.
From hired consultant to permanent employee
Charlotte Surén has been working for Kredinor as a hired consultant from BDO since October 2021. She will now be leading strategic projects at Kredinor, as Chief Special Projects Officer. She will be joining the management team at Kredinor, becoming one of the youngest managers in Norway's debt collection industry.
Exciting change process
Kredinor is in the midst of a significant change process. It was recently announced that the company planned to merge with Modhi, owned by the Sparebank 1 Group, and that the company would change its form of incorporation from a cooperative company to a limited liability company, with a non-profit foundation as its owner.
"The merger plans are very exciting and will have a positive impact on the future of the company. On this project, I have enjoyed working closely with many of the most talented people in their specialist fields, both internal and external. I am humbled, proud and happy to continue this journey as an employee at Kredinor," says Charlotte Surén.
Charlotte Surén will be joining Kredinor's management group, thereby becoming one of the youngest managers in the debt Norway's collection industry.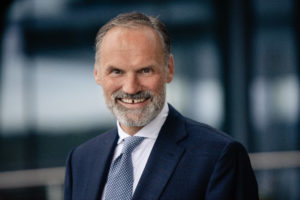 "Kredinor has high ambitions for delivering solutions and projects based on changes in the market and customer needs. This new company structure will be seen as a more proactive organisation going forward. I am certain that Charlotte is the right person to lead this work," says Nysteen
Charlotte Surén has several years' experience in business management and financial analysis from Eksportkreditt Norge and Multiconsult. She also has an impressive swimming career from the junior national team on her CV.
Welcome to Kredinor!