At the Members' meeting, both clients and owners were given detailed information about the background and further plans for the conversion of Kredinor into a limited liability company, and the plans for the merger with Modhi, owned by Sparebank1. What is new is that Kredinor, through its new business structure, will become more flexible in terms of access to capital and consolidation. This will make Kredinor more robust and secure in the future
The presentation can be found here.
The recorded presentation can be found here.
Content of the presentation
Sverre Gjessing, Board Chair at Kredinor provided information about the background and goals for the work that is underway. CEO Klaus-Anders Nysteen explained the intentions behind the merger between Kredinor and Modhi. Board member Sverre Olav Helsem then presented the organisation and establishment of the Kredinor Foundation. Charlotte Surén, Project Manager at Kredinor with responsibility for strategic projects, was also present. She went through the project setup for the restructuring process and timeline, which also includes the possible merger with Modhi.
The way forward
The restructuring of Kredinor presumes that the Norwegian Ministry of Finance grants tax relief for the transfer of the business to Kredinor AS, and the Norwegian Financial Supervisory Authority must grant permission to establish the new group. Similarly, a merger with Modhi will require approval by the Norwegian Competition Authority and the Financial Supervisory Authority of Norway. Until this is in place, there will be no changes to the business for clients, customers or employees of either company.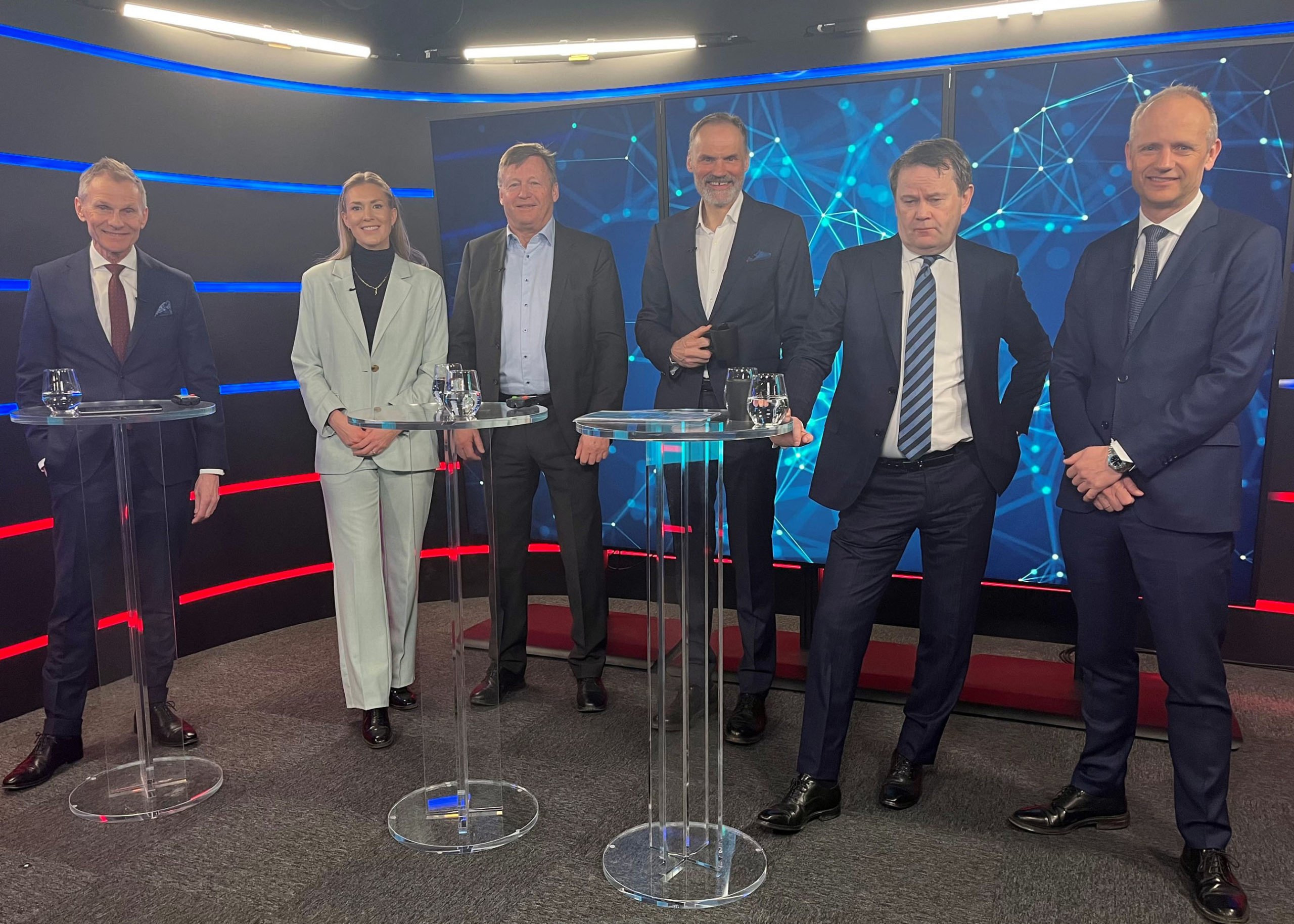 Meeting participants prior to the studio broadcast: From left: Sverre Gjessing, Board Chair of Kredinor, Charlotte Surén, Project Manager at Kredinor, Sverre Olav Helsem, board member of Kredinor, Klaus-Anders Nysteen, CEO of Kredinor. To the far right is Stig Berge and Tore Mydske, both of whom are partners with the law firm Advokatfirmaet Thommessen.
Any questions?
Charlotte Surén
Leder for strategiske prosjekter
Head of strategic projects