There is a great deal happening at Kredinor. Shortly after it was announced that Kredinor wished to merger with Modhi, owned by the Sparebank 1 Group, we were able to share the good news about our new CFO.
"Kredinor is a solid company that I have been watching for some time. I'm looking forward to being part of an exciting development, where we will use all of Kredinor's experience and knowledge to become an even more forward-leaning and customer-friendly company in a dynamic industry. The plans for the merger with Modhi are also exciting," says Jakob Bronebakk.
Jakob Bronebakk was formerly head of investor relations (IR) at Kongsberg Automotive ASA, and has also been CFO and CEO of MyBank ASA. Bronebakk has an Executive MBA – Master of Strategic Management from BI Norwegian Business School and is a Chartered Financial Analyst from the CFA Institute.
Jakob has unique expertise that will be valuable to our company, and I am very pleased to have him on our team," says Klaus-Anders Nysteen at Kredinor.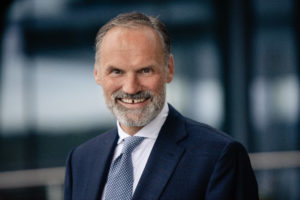 Klaus-Anders Nysteen, CEO of Kredinor, emphasises that Bronebakk has experience from companies that combine strategic thinking and operational performance with the aid of technology, innovation and financial control.
"Jakob has unique expertise that will be valuable to our company going forward. We will offer modern technological solutions and good customer service to help people in challenging financial situations. Both our clients and the debt collection industry are facing regulatory changes that will require us to make some changes in the company. In this context, efficient operations and access to capital are key success factors. I am certain that Jakob has the right expertise and personal qualities for the job, and I am very pleased to have him on our team," says Nysteen.
Bronebakk has experience of building fintech companies from the ground up. He has also worked as an investment analyst and chief financial officer, as well as running several major companies. He is now looking forward to joining Kredinor.
"The balance between risk, operations, continued developed and financial control is important. We will deliver on the company's strategy through investments in cutting-edge technology, the use of data, good capital discipline and efficient operations," says Bronebakk.
Jakob Bronebakk will take over the position on 1 September 2022.
Welcome to Kredinor!